Quality is extremely important for us for two reasons: to offer you the best services possible and to become your trusted Partner. We therefore base our service on the principles of the Quality Management System. Accordingly:
> We are an implicated organisation, we adhere to your objectives and develop a relationship based on trust and loyalty.
> We strive to fulfil your requirements. To do so, we offer you personalised solutions to guarantee a timely and impeccable service.
> Fulfilling your requirements and complying with legislation and relevant regulations is a Quality Requirement for us.
> We optimise the use of resources achieving maximum efficiency in all processes and ensuring quality.
> We encourage all members of the organisation to be involved in the continuous improvement process, achieving an effective quality management system and fulfilling objectives. This enables them to get involved, providing improvements and opportunities for the company.
> We give highest priority to quality prevention measures and to eliminating defects in all the corporate processes.
> We promote innovation and the use of new technologies, thus differentiating our organisation from our competitors.
> We provide continuous training for employees to improve the quality of the service.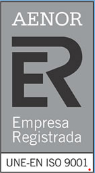 Our Certifications